2006 men's varsity
Cambridge 50 - 40 Oxford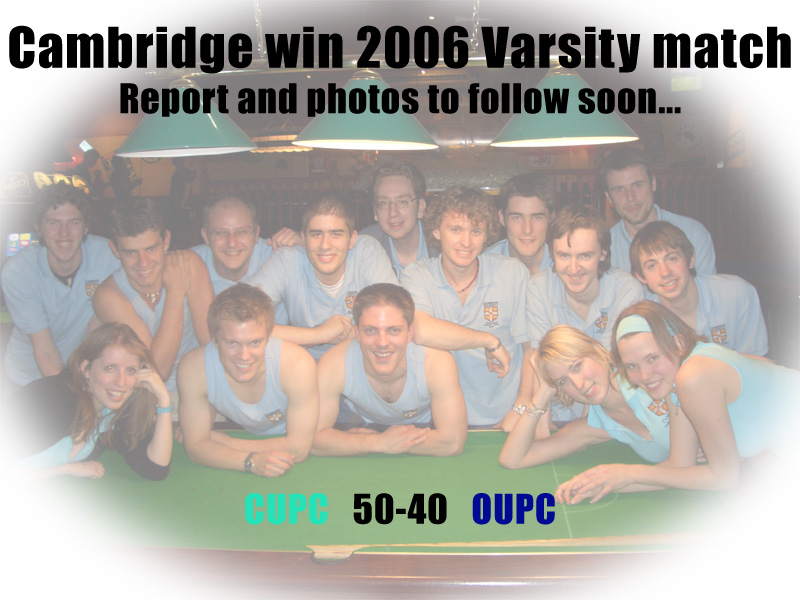 Match Report
By Rob Cork
It was with no small degree of anticipation that the members of the 2006 CUPC Varsity team made their way to Oxford on the morning of saturday 13th May. Everyone was conscious of the fact that the last six Varsity matches had ended in defeat to Oxford, but we were all aware that this year's OUPC squad was much reduced in strength and experience from the preceeding years. With only 5 previous Varsity players on the CUPC team, and 3 on the OUPC team, it was going to be difficult to predict a result between what were two largely unknown teams. Our failure to qualify for BUSA after a careless defeat to a weak Bolton side had denied us the opportunity of a pre-varsity match against the Dark Blues, but word on the grapevine was that they were likely to struggle this year. The only real indicator of form was the BUSA singles results, in which all of the Oxford players had exited in the first round with the exception of their captain, Zander, who suffered a second round defeat at the hands of the tournament winner Mark McCulloch.
By contrast, the Cambridge players had enjoyed some notable team and individual successes towards the end of the season. Matt Cullen and Rob Cork had both made it to the last 12 in the Cambridge Area Pool League singles KO tournament; the A team had enjoyed a strong finish to the season with a 7-5 win against the mighty Man On The Moon A (who can count a number of current and ex professionals, county players, and a current England international on their team roster); David and Rob were selected for the County B team; and Rob had made it to the quarter-finals of the BUSA singles before succumbing to a Mark McCulloch whitewash just as the OUPC Captain had earlier.
Arriving at Rileys in Cowley, Oxford, we took to the practice tables straight away in an attempt to lure the Oxford players into a false sense of security, employing a series of carefully missed pots, ambitious but ultimately unsuccessful positional shots, and close-but-not-quite-there escapes from snookers.
Saturday singles
First up for Cambridge were Steve, David, James and Ryan. Steve and Ryan showed no signs of nerves as they both battled to 3-0 victories, getting the Light Blues off to a flying start. James looked set to also whitewash his opponent, going 2-0 up through some good pressure potting. Unfortunately in the third the break went against him, with most of his balls near cushions, and his opponent played an excellent long red to leave himself an easy black to salvage a frame for the Dark Blues. David fared the worst of the openers, playing some magical pool to get onto the black before his opponent in all three frames, but missing two of them. Lei is not the sort of player you can give even a sniff of a chance to, and he made no mistakes in punishing David's misses to take a 2-1 victory for Oxford.
Cambridge's middle order of Rob, Matt, Oscar and Graham were given the task of playing to extend a 9-3 lead. Rob fought his way through a lengthy opening frame before realising that there was no option but to play for a re-rack, which he duly did. With the score at 0-0 in their match despite an hour's play, both players seemed determined to play more aggressively after the re-rack, and a 2-1 result in Cambridge's favour was quickly recorded. Matt played some good clearances to take a 3-0 victory in his match, and with Oscar's 2-1 victory the lead was extended. Graham suffered what was only Cambridge's second defeat in the first 8 matches, having taken the first and snookering his opponent on the black in the second - only to watch his opponent escape from the snooker off a cushion to pot the black and level the match, and then take the final frame after Graham missed a double on the black.
Taking a ten-frame lead into the last four matches, Cambridge were hoping to put the match almost beyond Oxford's reach after just a few hours of play. Unfortunately it was not to be, as the Dark Blues rallied well, picking up their first 3-0 against Cambridge's Ben Bowie. Brian fought hard to take a 2-1 win in his match, including a classy escape from a snooker to pot his final yellow, before finishing with a difficult black. With Chris making some uncharacteristic misses to go 1-2 down to his opponent, and Alex winning his leg 2-1, the lead was reduced to 8 frames with the scores at 22-14 after the first singles leg.
Saturday doubles
Despite having enjoyed by far and away Cambridge's best opening session in Varsity in the 21st century, we all knew that the job was far from done. Doubles was always going to be our weak point, as the format was dropped from the local league a couple of seasons ago, and most of our players had very little experience of this style of play. Also, with doubles frames almost invariably becoming tactical battles, Oxford's superior knowledge of the rules could give them a big advantage.
As expected, the frames became even more tactical than those in the singles session, but luckily the Cambridge players managed to hold their nerves to take a 7-5 result from the first four legs. Matt and Brian played exceptionally well under pressure to seal a crucial 3-0 victory early on, with Alex and James going 2-0 up in their match before their opponents cleared the third to deny Cambridge a second 3-0. Rob and Chris also went 2-0 up in the last doubles leg, but were unable to hold on for the 3-0 as their opponents clawed back the final frame.
The real talking point of the doubles had to be the scenes of torture endured by Ryan and David during their 3-0 loss. According to sources on the Dark Blues, opponents of these two Oxford players on previous occasions have been known to deliberately pot the black out of turn through sheer boredom, seeking a quick end to a frame. The Cambridge boys refused to take such an easy route to the 3-0 defeat, fighting hard but ultimately unsuccessfully in each frame. Having started just before the FA Cup final kicked off, they were still going even after extra time and penalties had been played. A truly superhuman effort.
Sunday singles
With the doubles tied at 9-9, the Light Blues went into the second day knowing that they needed just 15 of the remaining 36 frames for an historic victory. The teamsheet, with the order of play, has been lost to history, but suffice to say that Cambridge continued much where they had left off, racing towards the benchmark of 40 frames. As the Light Blues neared the finish line, a few nervy frames went Oxford's way, and for a brief moment it looked as though a comeback might be on the cards. Thankfully, Alex Pavlaki held his nerve on a tricky black with Cambridge on 45 frames, sinking it to seal the victory. The tail picked up a few more frames to increase the margin of victory still further; the final scoreline of 50-40 was a fair reflection of a close match, played in good competitive spirit, unlike many varsity matches of old!
FULL RESULTS
Cambridge
Oxford
Saturday singles

22-14
James Iles
2
v
1
Martin Rowland
Brian Lavery
2
v
1
David Barton
1
v
2
Lei Xiao
Matt Cullen
3
v
0
Zander Khan
Rob Cork
2
v
1
Ryan Anderson
3
v
0
Oscar Brodkin
1?
v
2?
Graham Sills
1
v
2
Ben Bowie
0
v
3
Alex Pavlaki
2
v
1
Steve McCann
3
v
0
Rob Gaunt
Chris Coomber
2?
v
1?
22
v
14
Saturday doubles

9-9
Ryan and David
0
v
3
Brian and Matt
3
v
0
Steve and Ben
1
v
2
Lei and Martin
James and Alex
2
v
1
Graham and Oscar
1
v
2
Rob and Chris
2
v
1
31
v
23
Sunday singles

19-17
James Iles
2
v
1
Brian Lavery
1
v
2
Zander Khan
David Barton
1
v
2
Matt Cullen
2
v
1
Rob Gaunt
Rob Cork
2
v
1
Lei Xiao
Ryan Anderson
3
v
0
Oscar Brodkin
2?
v
1?
Graham Sills
1
v
2
Ben Bowie
1
v
2
Alex Pavlaki
2
v
1
Steve McCann
1
v
2
Chris Coomber
1?
v
2?
50
v
40
INDIVIDUAL STATS
Name
Singles (out of 6)
Doubles (out of 3)
Overall (out of 9)
Won
% won
Won
% won
Won
% won
Matt Cullen
6
100
2
67
8
89
Ryan Anderson
6
100
0
0
6
67
Rob Cork
4
67
2
67
6
67
James Iles
4
67
2
67
6
67
Brian Lavery
3
50
3
100
6
67
Alex Pavlaki
4
67
2
67
6
67
Steve McCann
4
67
1
33
5
56
Graham Sills
2
33
1
33
3
33
David Barton
2
33
0
0
2
22
Ben Bowie
1
17
1
33
2
22
Chris Coomber
2
67
Oscar Brodkin
1
33