The CU Open 2011
The 2011 CUPC Open was held at CSC on Sunday 27th November. After the success of the Novice's Tournament, the Open was the most poorly attended CUPC tournament on record, with only 9 entrants.
With the traditional knockout tournament unfeasible, there was instead a group stage, with a joint seeding for each group:
Pete Atkinson, James Palmer
Jon Nelson, Tom Sutton
Steve Herbert, Rik O'Connor
James Ross, Dmitry Vavrovsky, Tarun Manjunath
The tournament was ultimately won by Homerton's Pete Atkinson, back at CUPC after a 3 year absence on his Masters.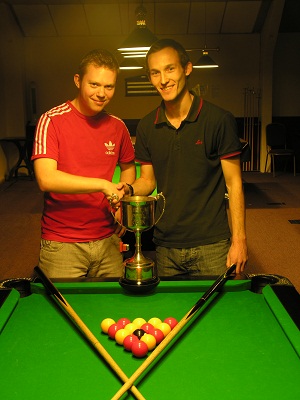 The finalists, Pete Atkinson (L) and James Palmer (R).
Group Stages
Downing's James Palmer overcame some tricky opposition in Group A to win all his matches with room to spare. The rest of the group remained tight, with a big 6-1 to James Ross over Darwin's Steve Herbert effectively ending the Uni B captains involvement despite some solid wins. It came down to a showdown between James and St John's Tom Sutton, with the latter securing his required 3 frames in trademark gritty style to send the Sidney Sussex man out.
In Group B, Pete dominated all his opposition with some chanceless pool, and again it came to a showdown between Christ's Rik O'Connor and St John's Jon Nelson. Jon also quickly secured the three frames he needed, with Rik's late rally coming too late to save himself from going out.
Knockout Rounds
James overcame a 3-2 deficit to beat Jon 6-3 to reach his first CUPC final, which included two further dishes to add to his two in the group stages. In the later semi, Tom played some fine back-to-the-wall pool but ultimately could not stop the Homerton rollercoaster, who by this point had only lost 3 frames.
In the final, neither player could pull more than one frame ahead of the other after the first two frames as the nerves set in, until James went in off the black to help Pete edge 5-4 up. A dish in the next from James was not enough to regain momentum, after Pete closed out the last two frames for his first CUPC title.
There was some consolation for James in his victory in the straight pool tournament, where he beat namesake James Ross in a close-fought final.
| | |
| --- | --- |
| Tom v Steve. Tense. | Pete Atkinson, CU Open 2011 Champion. |