Cambridge University Novices' Tournament 2010
The first event of the Pool Club's 2010-2011 calendar - the CUPC Novices' tournament - was held on Sunday, October 17th. 9 novices entered, all of whom showed great promise for the future.
Congratulations go to Drew Miley who upset the odds to beat former University of Warwick player Paul Bradwell 4 - 1 in the final. This was especially remarkable as he had already lost to Paul in the group stages, and so had to come through a play-off to claim his spot in the semis.

The tournament as a whole proved to be a resounding success for Homerton, with the college providing all four semi-finalists.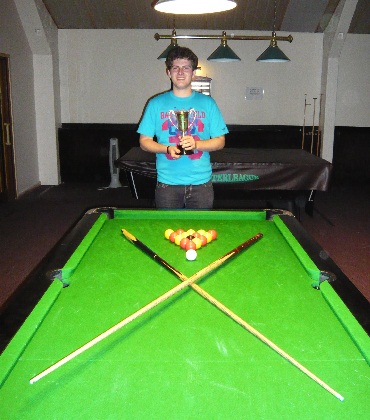 Drew with the trophy.
Knockout stage
The highest-placed novice from each group in the first stage (below) progressed to a knockout stage, along with the winner of a play-off between the three second-placed novices from each group.
Group Stage
The first round of the tournament had a group format. Players were split up into three groups, each with one university player (top) and three novices, before each player played five frames against every other in their group.
The top player in each group excluding the university player would progress through to the knockout stage, with the second-ranked novice going through to a play-off.