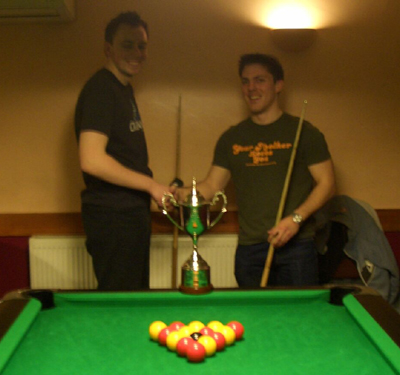 Si and Rob, the two finalists
2005 saw the first Cambridge University Masters pool tournament, a one-day competition held at Cambridge Snooker Centre on 6th March.
The top 16 players from the university ladder stats table are invited, with places being offered to those immediately below if any of the top 16 are unavailable. The tournament is played to World Rules, and is knockout from the very first round.
| Round 1 | Quarter Finals | Semi Finals | Final | Champion |
| --- | --- | --- | --- | --- |
| 2 Graham Sills | | | | |
| v | 2 Alex Pavlaki | | | |
| 4 Alex Pavlaki | | | | |
| | v | 4 Rob Cork | | |
| 4 Rob Cork | | | | |
| v | 4 Rob Cork | | | |
| 1 Oscar Brodkin | | | | |
| | | v | 6 Rob Cork | |
| 1 Matt Cullen | | | | |
| v | 4 Patrick Snow | | | |
| 4 Patrick Snow | | | | |
| | v | 2 Patrick Snow | | |
| 4 Andy Aspden | | | | |
| v | 3 Andy Aspden | | | |
| 1 Guido Dacie-Lombardo | | | | |
| | | | v | Rob Cork |
| 1 Chris Chamberlain | | | | |
| v | 4 David Barton | | | |
| 4 David Barton | | | | |
| | v | 3 David Barton | | |
| 1 Salvatore Mascia | | | | |
| v | 3 Steve Wilson | | | |
| 4 Steve Wilson | | | | |
| | | v | 5 Simon Williams | |
| 4 Simon Williams | | | | |
| v | 4 Simon Williams | | | |
| 1 Jon Price | | | | |
| | v | 4 Simon Williams | | |
| 4 Scott Danks | | | | |
| v | 3 Scott Danks | | | |
| 3 Abdur Modoni | | | | |