The CU Open 2010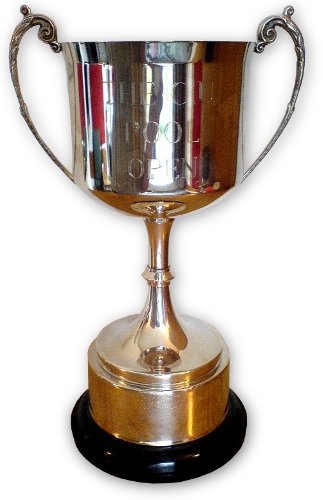 The sixth CU Open was held on Sunday, March 6th 2011(!) at the Cambridge Snooker Centre. Nineteen entries were received, of which the following eight were seeded:
Hugh Lund, seizing upon the opportunity provided by top seed Paul Thomas' shock first-round exit, came through to take the title - his first in Cambridge.
Hugh was somewhat fortunate to win his quater-final against an in-form Drew Miley, with his opponent going in-off on what would have been the winning black at 4-3 ahead. However, Hugh neld his nerve to take the decider, before comfortable victories over James Palmer in the semis and Mike Judge in the final gave him his first CUPC trophy.
The finalists
Results
Plate
The plate competition was open to everyone who lost their first match in the main draw. The trophy was taken by top seed Paul Thomas, who lost only two frames on his way to the title.
Straight Pool
A straight pool tournament was run as a side event. Taken less seriously than the main tournament (by most), straight pool is all about potting balls, in any order, for a point each up to a set total. Hanger-on (and former Open winner) Rob Hogan was also allowed to enter this one, yet it was Homerton's Tom Harbour eventually who secured the title. Tom justified his position on top of the singles ladder in coming all the way from the preliminary round to win his first pool competition ever.
Gallery
A few more snaps from the day...